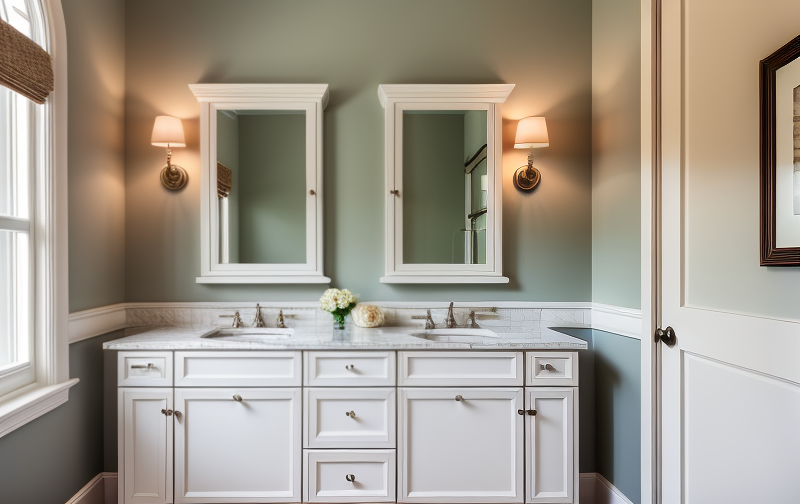 When it comes to home improvements, one often overlooked gem is the bathroom. A space that holds the potential to transform from functional to fabulous, your bathroom deserves a touch of rejuvenation. And the best part? It doesn't have to break the bank. With a bit of creativity and a dash of resourcefulness, you can breathe new life into your bathroom without draining your wallet. Let's embark on a journey to refresh your bathroom's look and feel, turning it from drab to fab.
Color Therapy: A simple coat of paint can work wonders. Opt for light, soothing colors to create a sense of spaciousness and tranquility.
Artful Accents: Add personality with budget-friendly wall art, such as framed prints or canvas paintings, that reflect your style.
Statement Mirror: Swap out your old mirror for a stylish one. Mirrors can enhance both light and visual appeal.
Hardware Update: Replacing old cabinet handles and faucets with newer, modern options can give your bathroom an instant facelift.
Textile Touches: Add plush towels, a chic shower curtain, and a soft bath mat to infuse comfort and color.
Greenery Magic: A small potted plant or succulent can bring a touch of nature indoors, instantly boosting the ambiance.
Functional Shelving: Install open shelves for storage, displaying decorative items or neatly organizing toiletries.
Lighting Revamp: Update your light fixtures for a refreshed atmosphere that elevates the overall mood.
Affordable Accessories: Delight in budget-friendly finds like decorative soap dispensers, toothbrush holders, and jars.
Statement Wall: Create an accent wall with peel-and-stick wallpaper or tiles to make a bold, stylish statement.
As your bathroom transforms before your eyes, it's essential to remember that every space in your home tells a story. And speaking of stories, VanderHyde Construction believes in helping you craft your home's narrative. Just as we've explored ways to breathe life into your bathroom, our expertise lies in turning your ideas into reality. From the smallest updates to complete transformations, we're here to enhance your home's beauty, just as you've enhanced your bathroom's allure.
Together, let's continue crafting stories, one space at a time.
Schedule Your Consultation Today
Ready to turn your dream project into reality? Our team at VanderHyde Construction is here to guide you every step of the way. Whether you're envisioning a kitchen remodel, a home addition, or any other transformation, we're eager to hear your ideas. Reach out to us to schedule a consultation and let's embark on this exciting journey together. Your vision is our priority, and we're dedicated to making it come to life.