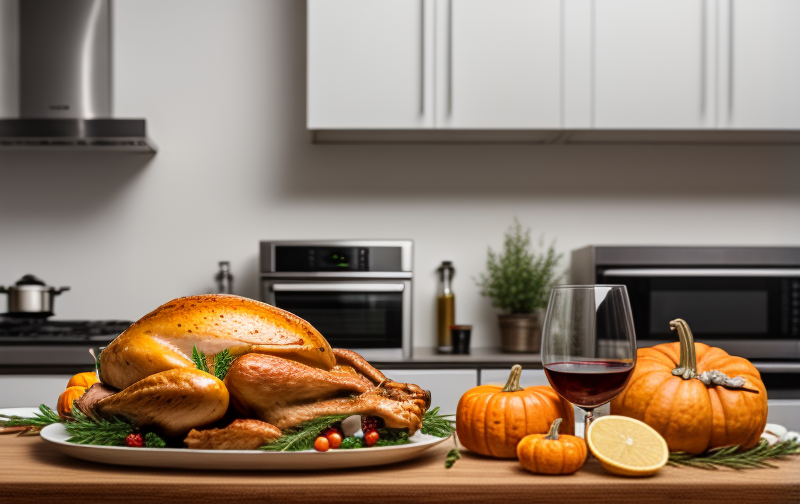 Thanksgiving, a time when warmth, laughter, and the aromas of cherished family recipes fill the air, holds a special place in our hearts. As the holiday season approaches, envision the joy of gathering with loved ones in a kitchen transformed by modern design and thoughtful touches. Picture the spacious countertops, the gleaming appliances, and the enhanced functionality that effortlessly accommodate the bustling energy of the season. This Thanksgiving, as you step into your newly remodeled kitchen, the heart of your home, let's explore the heartwarming benefits of this transformation.
The Gift of Space
Gone are the days of navigating around cramped corners while orchestrating the perfect feast. With your newly remodeled kitchen, you're met with ample space that fosters an atmosphere of togetherness. Friends and family can engage in lively conversations, children can assist in meal preparations, and culinary creations can unfold without the constraints of a confined setting.
Modern Touches, Time-Honored Traditions
Modern design doesn't just mean sleek lines and sophisticated finishes – it's about enhancing your lifestyle while preserving cherished traditions. Imagine a kitchen where state-of-the-art appliances work seamlessly alongside your treasured heirloom dishes. The blend of the contemporary and the timeless creates an ambiance that encapsulates both comfort and innovation.
Efficiency at its Finest
With a remodeled kitchen, you'll experience the true essence of culinary efficiency. Imagine effortlessly gliding between your spacious island, a well-organized pantry, and the latest appliances. This newfound ease empowers you to focus on what truly matters: creating delightful dishes and making memories that last a lifetime.
Unveiling the Dream
As you gather around your kitchen island this Thanksgiving, reflect on the journey that led you to this moment. And if you're considering further enhancing your space, look no further than VanderHyde Construction. With our expertise in modern kitchen transformations, we're here to turn your visions into reality. From conceptualizing the design that resonates with your style to crafting an environment that harmonizes aesthetics and functionality, we're your partner in creating a kitchen that's as unique as your family's traditions.
In this season of gratitude, we're honored to be a part of your home journey. As you savor each bite and embrace the comfort of your remodeled kitchen, let us inspire you to envision the endless possibilities that lie ahead.
Discover the VanderHyde difference – where craftsmanship, innovation, and heart come together to create spaces that capture the essence of your home.
Schedule Your Consultation Today
Ready to turn your dream project into reality? Our team at VanderHyde Construction is here to guide you every step of the way. Whether you're envisioning a kitchen remodel, a home addition, or any other transformation, we're eager to hear your ideas. Reach out to us to schedule a consultation and let's embark on this exciting journey together. Your vision is our priority, and we're dedicated to making it come to life.